Website
Hi my name is Matt Blank, I was born in 1982, I'm from London and I launched this website in 2005.
'Rupert and the Frog Song' is one of my happy childhood memories. I used to watch it so much when I was a kid I wore out my video tape! When I heard in 2004 that it was being re-released on the DVD 'Paul McCartney's Animation Collection' I had to buy it!
And the magic was back. After nearly 20 years since I last saw it, it was so refreshing to be able to sing along to the music while watching those silly frogs pull their silly faces.
I decided to show the 'Animation Collection' to my nephew and niece (ages 2 and 3 at the time) and they absolutely loved it, which was a relief as I was getting sick and tired of watching The Tweenies with them!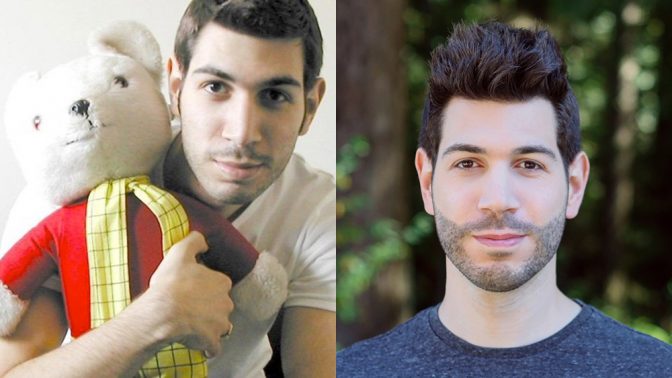 I then decided to go on a nostalgic hunt around the Internet to find out more info about the video, and to my shock horror very few results came back. In truth, not only was I expecting it to be mentioned on cartoon and TV websites, but I thought that due to the cult following it has, a website would have been created…but to my surprise nothing!
Seeing how much my nephew and niece enjoyed it (and me as well) I decided that I would step up and take the challenge of producing the first and currently only 'Rupert and the Frog Song' website. Already being a website designer, I thought this would be a fun project, and so in November 2004, when I was 22, I dedicated a few hours to design the site.
For various reasons the site got put on the back burner, until August 2005, when at the age of 23 I was rummaging through some of my previously designed websites and stumbled across this one. I was so proud of what I had done nine months previous, that I decided to update it, add a few bits and bobs and then bought the domain name (keeping it typically British with a co.uk) and launched the site.
Flash forward 11 years and in 2016 I decided to update the site as I hadn't touched in since 2005. It was based on old and on an old design and wouldn't even work properly on modern devices such as iPad's and smartphones.
Unless stated otherwise, all the wording on this site was written by me, and the photos used are stills from my DVD. I also have to point out that this is an unofficial site, and is no way connected with Paul McCartney, MPL Communications or the Daily Express. However if any of these would like to endorse this site and give me official recognition please do! This website doesn't make me a penny! Its sole purpose is to advertise 'Rupert and the Frog Song' and to refresh the memories of the generation that grew up with it and loved it so. And if it can make you feel like a kid again, or help the current young generation have a new found appreciation for it, then fantastic!
Well before I finish this website biography I may as well give you a small background about myself. I'm from London and graduated as an actor in 2003 from LIPA (the Liverpool Institute for Performing Arts). This coincidently is the university Paul McCartney founded, however I assure you that this is in no way related to why I started this website. It's worth noting though, that during my time at LIPA I did get to meet the man himself on a number of occasions as well as receiving my degree from him, as can be seen in the picture below.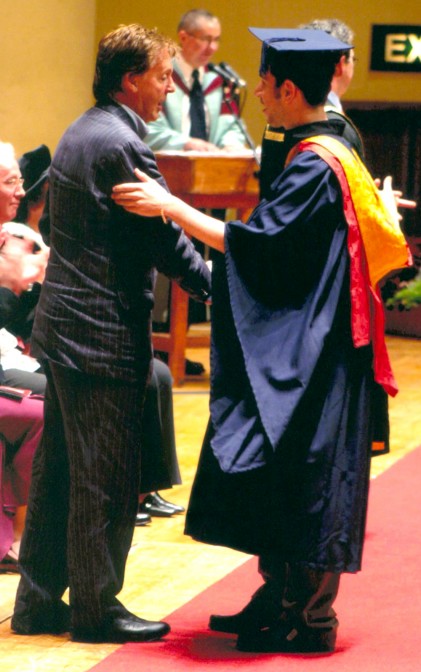 A lot has changed for me personally since creating this site. I'm now a father to a beautiful daughter who at the time of updating this site in 2016 is just 18 months old…and already a MASSIVE Rupert and the Frog Song fan! She watches it daily (usually more than once) and a big smile comes on her face every time she see's Paul McCartney reach inside the trunk for the book. More than 30 years on it's magic survives!
We All Stand Together!
Matt Blank